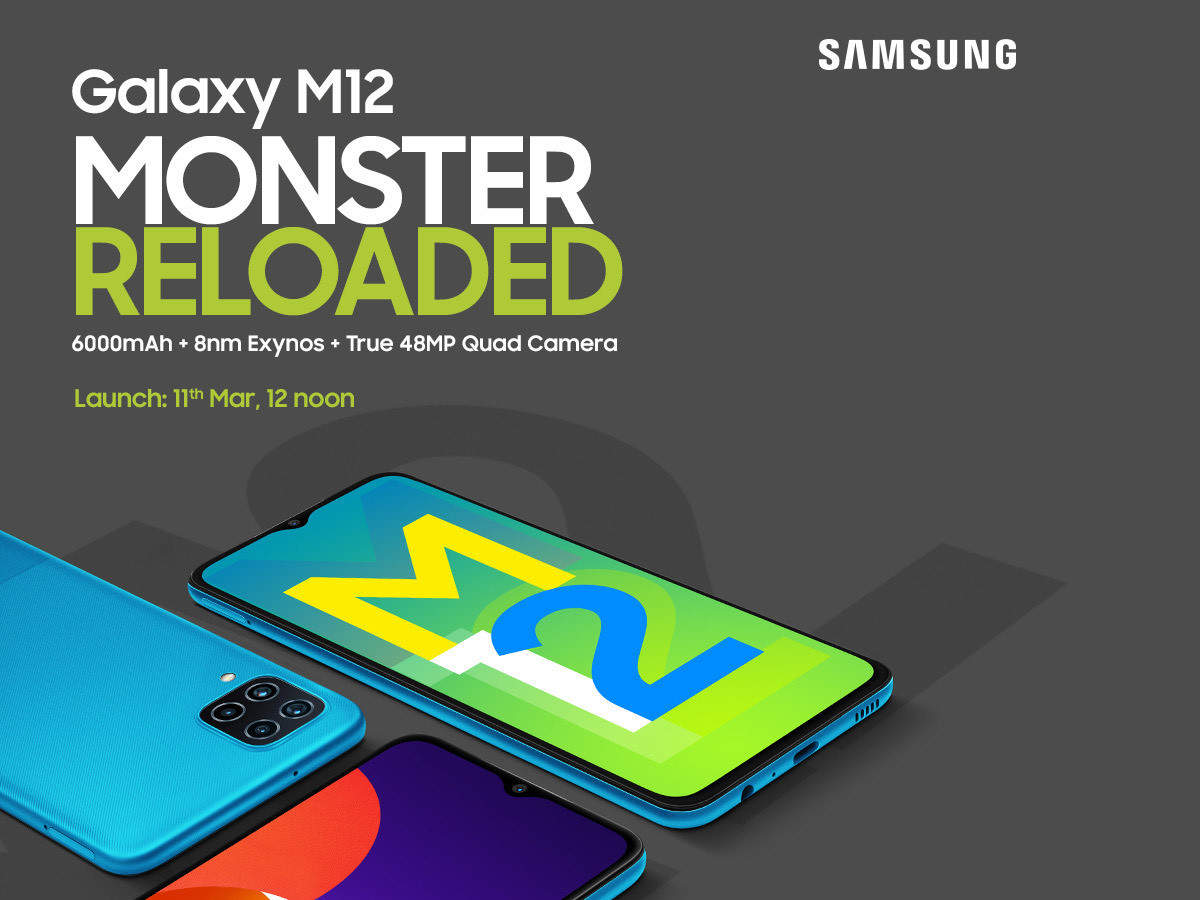 How to make good smartphones great? Samsung knows best – take an amazing phone and reload it with the latest, avant-garde features. Samsung Galaxy M12 is the season 2 of the original monster – it has the best features of its parent M series and brings in some newest, segment leading specs under an unbelievable price range. It is a #MonsterReloaded.
6000mAh Battery and 8nm Exynos processor reloaded for better power efficiency
Samsung M12 has a humongous 6000 mAh battery BUT with a segment-first 8nm processor, a true 48MP Quad cam.
Combining a pair of dependable processing units, the Exynos processor delivers capable mobile computing and gaming on this smartphone. incorporates innovative power efficiency measures that enable users to make use of mobile features for longer. Designed with advanced 8nm FinFET processing technology, the processor offers noticeably better power efficiency than processors built on legacy processes..
A powerful battery with a performance-driven processor means the phone will run for days on a full charge, even when you use it 24/7. To prove this, the brand has roped in 12 celebrities to test the phone's battery out on a relay. Each celeb will try to drain out the battery of the phone while performing activities on it – and if they fail to drain it, they'll pass the phone on to the next celeb who will have to continue from the battery percentage that was handed over to them.
Now that's a challenge one would look forward to. And given the history of the Galaxy M Series smartphones, they are made to champion all challenges. When the original monster was launched in 2019, two men-at-arms had taken on the dare to outrun it. This year, just like the phone, the challenge is reloaded too – not 2 or 4 but 12 top dogs have unified their strength to win over the Galaxy M12's battery. Will they? That's to be seen in the near future.
Camera Reloaded for well-defined photographs
The battery and processor prowess is not the only thing the Galaxy M12 is boasting of; a true 48 MP quad camera also announces its supremacy in the under-12k smartphone market. If you're wondering what 'true resolution' is and how it is different from the regular resolution, here's your answer. ISOCELL Bright GM2 is a 48Mp image sensor that also adopts Tetracell technology in low-light environments and a remosaic algorithm in well-lit settings, bringing highly-detailed pictures with natural and vivid colors. GM2, like GM1, adopts DCG as well for added performance and Super PD for fast autofocus.
Display Reloaded so that videos come to life before your eyes
Another differentiator of this gadget is its 90hz refresh rate. The high refresh rate of 90Hz means smoother scrolling and much better animations compared to the average 60Hz refresh rate panel, thus improving the overall user experience. A display's refresh rate is the rate at which visual information on it is updated vertically. The 90Hz panels have been around for a while – in monitors or gaming phones – but never on a mainstream smartphone – until now.
With a 6.5″ HD+ Infinity V Display, the Exynos enables high-quality display resolutions and playback that allows you to get truly immersed in their favorite videos.
If this is true, the deal cannot get better than this because specs like that don't come under such a minimal price tag. Do watch out this space for more specs reveal and highlights of the #MonsterReloaded challenge.